So writes my ancestor Richard Hall about his wedding to Betty Snooke, sister to his late brother-in-law. As I have explained in The Journal of a Georgian Gentleman, she was an unlikely choice of bride – the entire family suspected that he had been courting Anna Snooke, his brother-in-law's widow. Anna would have been a far wealthier catch – and possibly one which would have been more acceptable to Richard's children. As it was, they were horrified  -Betty, the blushing bride, was nearer their age than that of Richard. Worse, they had been brought up with her during their long spells in the country, escaping from the fog and grime of London, and they looked on her as a big sister. Betty was altogether too likely to have children – and the existing family of Richard
could see their own inheritance getting watered down. So they boycotted the wedding and made it clear that as a couple Richard and Betty were never to spend a night with any of the three of them under the same roof. So, when Richard and his bride visited London shortly after their marriage and expected to stay at their home at Number  One London Bridge, the three children (all in their twenties) simply moved out and refused to return. They made it clear that on her own Betty was a welcome guest, as was their father, but that together as a couple they were unacceptable.
Such an ultimatum was unacceptable to Richard, whose first wife had died a mere eleven months earlier. He packed up his affairs in London, and moved into a house in Bourton on the Water. He barely spoke to his children for the next twenty one years, being reconciled only upon his death-bed in 1801. We can only imagine the pain and anguish caused to them all by such an unfortunate falling-out.
Paul Emile Boutigny's Arrival for the Wedding (courtesy of Mystudios.com)
Whatever the scene outside the church in Bourton on the Water in 1780, it is unlikely to have been anything half as grand as this! On the other hand Richard did own a very fine silver-white waistcoat decorated with metallic thread, and I suspect he would have sported it proudly, with his much younger bride in her best gown. I imagine that the whole village turned out to watch – she was after all the sister of the lord of the manor, and Richard had been a family friend and regular visitor for nearly thirty years.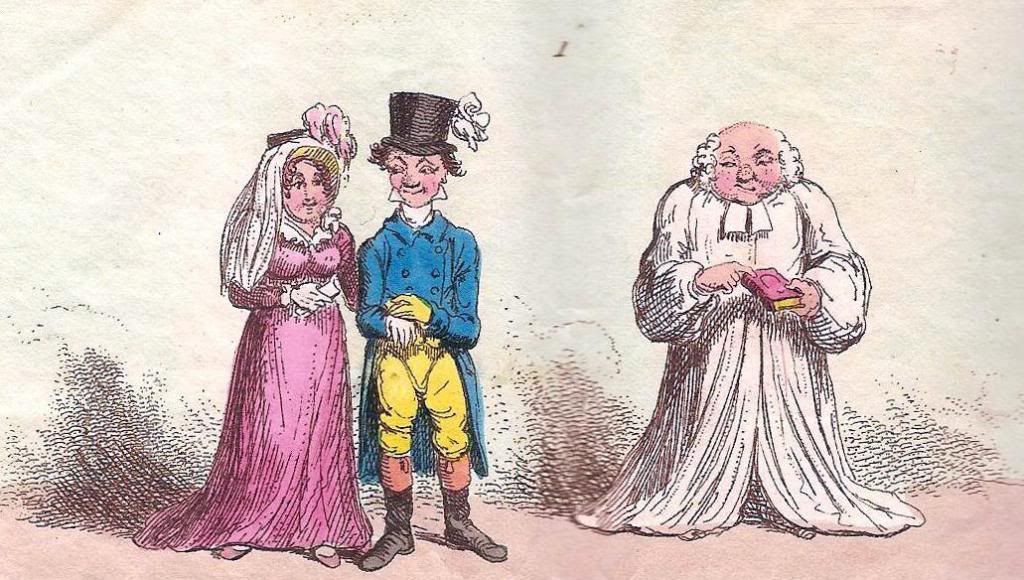 A rather curious picture from a book of grammar (illustrating words which get joined together!) belonging to Richard Hall's youngest son.
And don´t forget , there is far far more about life in the Eighteenth Century, and what Richard got up to, in The Journal of a Georgian Gentleman. Order it now and it will just be through in time for Christmas – it's easy to wrap and is ideal as a gift for anyone with a kitchen table with one leg half an inch shorter than the others….