Writing in the first week of November 1783 Richard Hall gives a snapshot of what he and his family got up to in their spare time.
The entries for the week start with the Sabbath: "Heard Mr Addington; Isiah 42.16; a fine day, not cold" before continuing with the information that he "Din'd at Mr Robarts" on the Monday and that it was fine, with a little rain at night, not cold.
On the Tuesday 4th November he "Went with Wife, Daughter (and son Francis who met us later) & Sophy to see Sir Ashton Lever's Collection of Natural Curiosities – and curious they indeed are. Din'd at a Beefstake House. Fine day, mild"
Richard would have been in his element at the museum, also known as the Leverium, and sometimes even as The Holophusicon. Based in Leicester Square the museum opened in 1775 and remained there for over twelve years. Entrance cost half a crown a head and for this visitors could see some 28,000 exhibits (mostly natural history items such as shells, fossils, etc but including various items brought back by Captain James Cook). It is to be hoped that Francis got there in time to share his father's enthusiasm for shells and fossils, and that 'Wife Daughter & Sophy' were not too bored with cabinet after cabinet of exhibits. Good to know that they worked up an appetite and that there was a 'stake house' nearby – a reminder that  establishments where hot pies could be bought ('eat in or take-away') are nothing new.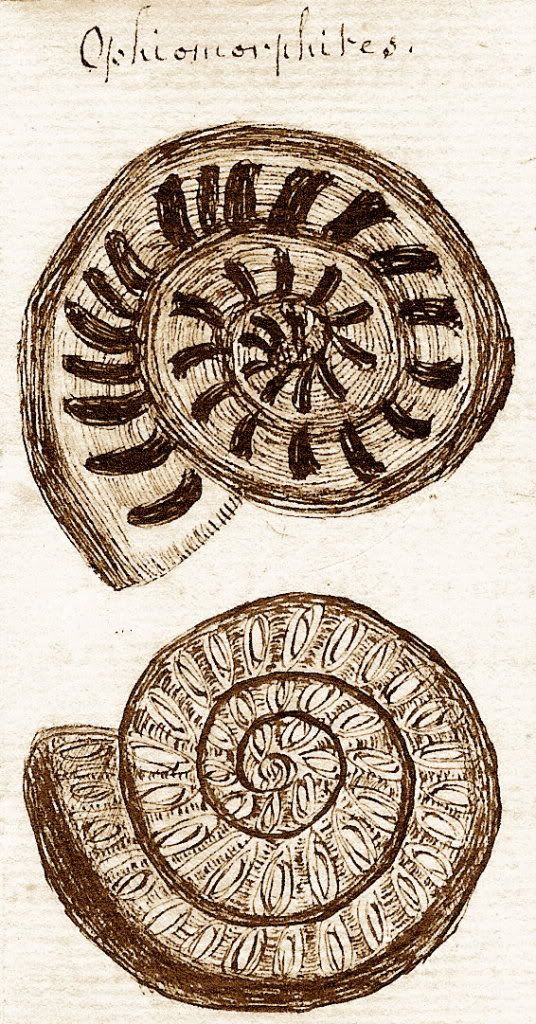 I still have Richard's own collection of fossils and his shells – many of them still meticulously labelled with their Latin names. Richard also kept a little book in which he drew pictures of fossils (here, 'an Ophiomorphite'). Pre-Darwin it was believed that these creatures were in fact long worms, coiled up in death, before being turned to stone. Coming across a dead centipede rolled up in a spiral, I can inderstand the belief.
On the fifth of November there was no mention of Guy Fawkes or bonfires – rather a more serious note of fears over a conflagration which broke out nearby ("Rose early this morning on account of a great fire in Aldersgate Street. Blessed be the Lord who kept me and mine from the like Calamity"). The entry is a reminder that although the Great Fire of London was a century earlier, Richard's home at One London Bridge was only a hundred yards or so from the Monument, marking where the Great Fire started. Fires were a great concern to Richard – his diaries are full of similar reports. No wonder he went out and checked that he had renewed his fire cover with the Bird in Hand Insurance Company, raising the sum assured a short time afterwards…
On the sixth Richard noted that it was fine in the morning and that his son "William returned from his Sussex and Kent journeys, through mercy, in safety".
The entry reflects the fact that the Hall haberdashery business was expanding – rather than simply waiting for clients to come to Town for the season, family members would take it in turns to tour the Home Counties, no doubt armed with swatches and material samples and examples of new fashions, drumming up orders before 'returning to base' to have them made up, ready to be returned at the next visit. Indeed the only reason Richard was up in London was to provide 'cover' at the shop at One London Bridge. He stayed up for the Lord Mayor's Show the week afterwards and then returned to his home in the Cotswolds. It "remained fine, but very cool".
I like Richard's final entry on this page. It looks as though he started to say that he' took tea' before remembering that tea was off the menu, and instead he records that he "drank milk and water with Wife and Daughter at Mrs Reynolds". No explanation is given as to  why there was no tea, but my guess is that Richard's digestive system was playing him up and a diet of milk and water was called for. Either that or Mrs Reynolds had committed the faux pas of failing to send the servants out for new supplies of the precious leaves….