A visit yesterday to Powderham Castle, near Exeter, reminded me of a post I had previously done on the artist Richard Cosway. Why? Because  he painted several of the paintings on display there, including a rather unsubtle one, now in the chapel, of Christ, in which the artist has inserted his own portrait in the top left hand corner. Apparently suggesting that "I was there at the crucifixion" didn't go down too well -and the picture languished in  an attic for many years…
Powderham has been home to the Courtenay family for many centuries. The Courtenay's  were variously either Earl of Devon or Viscount of Devon (no link at all with the Cavendish family who were the Dukes of Devonshire). And  Cosway was a friend of William Courtenay, who eventually succeeded to the title of Viscount Devon, largely on account of  the fact that none of his 13 sisters, all older,  were able to claim the title. Being brought up in a female-dominated family may have had nothing to do with the fact that he preferred male company – rather a lot of it. So much so that his notoriety as a homosexual eventually led to  criminal charges being brought against him. He avoided trial – and execution – by fleeing the country and died in exile in France.
Richard Cosway was a family friend and is often referred to as  the Macaroni Painter. He was born on Guy Fawkes Day 1743  in Tiverton, Devon. He was educated at Blundell's School before being packed off to London as a twelve-year old. He quickly showed his exceptional talents as an artist, opening his own business as a painter in 1760. Before he was thirty he was sufficiently established to be one of the first associate members of the Royal Academy  – an extraordinary achievement.
His specialities were portrait miniatures. This is a self-portrait done in 1770.
and this one, from the National Portrait Gallery, shows him in a slightly less dandy-ish pose:     
In 1781 Cosway married the Anglo-Italian artist Maria Hadfield. It is far from certain that their marriage was more than a sham – he was twenty years her senior, a notorious libertine, but someone who took a keen interest in her career. He drew her on several occasions, including this lithograph.
The pair led somewhat separate lives, to the extent of travelling abroad with other partners, but when  they were in London together their salon in Pall Mall became extremely fashionable. His wife was nick-named 'the goddess of Pall Mall'. Someone else gave him the epithet of 'the little monkey.' Their marriage was eventually annulled.
Cosway was a close friend of the future King George IV and in 1785 was reportedly awarded the title 'Painter to the Prince of Wales (the only person to receive the title).  In his later years Cosway suffered from mental health problems, spending time in various institutions. He died in 1821. Here are a few examples of his works:
 Oil painting attributed to Cosway                          
                                                                                                                                  Miniature, 'unknown gentleman'
(With his miniatures Cosway was unusual in using transparent water colours on ivory, allowing the tone of the ivory to shine through).
     Portrait of Lady Almeria Carpenter, oil on canvas.
                                           And here, his portrait of Mrs Joseph Smith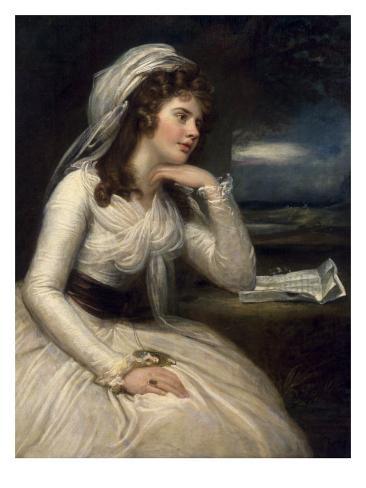 Cosway also did a fine miniature of the
Duke of Wellington, shown below. 
His miniature of the Prince of Wales, painted in 1780, shows him to be an interesting artist – not one of the greats, but certainly popular in his day.
As an aside, Powderham Castle is a great place to visit, on the banks of the River Exe. It is something of a melange of styles – some medieval, some Georgian and some Victorian gothic. But it is amazing to think that the family have managed to hold on to it for so long.