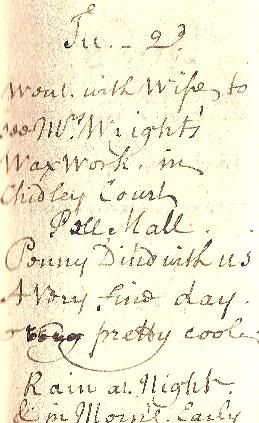 My ancestor's diary entry recording a visit to Mrs Wright's Waxworks in Chidley Court, Pall Mall.
Mrs Wright was an interesting character, and one who played a part in the American War of Independence. She was born into a particularly strict Quaker sect as Patience Lovell, in around 1725, probably on Long Island, New York. She was the fifth of nine daughters born to a farming family, and as a child she and her sisters apparently made model figurines out of clay and dough, which they then coloured and dressed in clothing.
In her twenties she ran away to Philadelphia and married Joseph Wright in 1748. She said of her husband that he had "nothing but age and money to recommend himself to her" but she bore him five children, one of them born after Joseph died. She then discovered that Joseph had left her (and the fifth child of whom he had no knowledge) virtually nothing in his will. She turned to her sister Rachel Lovell Wells for assistance. This sister had continued her childhood hobby of modelling and showed Patricia how to make life-sized sculptures in wax. These they exhibited in a travelling show, earning commissions to sculpt likenesses along the way. Eventually Patricia had her own permanent exhibition in New York, but a fire in 1771 destroyed most of the exhibits. With the help of her sister she re-stocked and opened in Boston, where she met Jane Mecom, who was the sister of Benjamin Franklin. Jane gave Patricia a letter of introduction to her brother, and Patricia came to England intending to use the connection as an entree into London society so that she could meet and sculpt prominent figures of the Age.
Portrait courtesy of the National Portrait Gallery.
London society flocked to have their likenesses made, including the King and Queen whom she addressed as 'George' and 'Charlotte' in true egalitarian fashion appropriate to a colonial! Well, she did until the King  withdrew his support for her when she became too strident in her support for the Americans in the War of Independence. But by then she was famous and crowds clamoured to see her models, often full size, because of their uncanny likeness and life-like qualities. Apparently her party piece was to install one of her models in a reception room and then wait for people to realize that they were talking to a dummy!  Walpole welcomed her into his circle of friends, calling her 'the artistress'
By all accounts she was no great oil painting, with sallow complexion and masculine features, but she soon became famous for her quick wit and coarse language. Not everyone liked her – the outspoken Abigail Adams, who later became the First Lady when her husband John became the second President of the United States (and a woman well known for a choice 'bon mot') succinctly  called her "the Queen of sluts."
A London newspaper of the day reported that "the ingenious Mrs. Wright, whose Skill in taking Likeness, expressing the Passions, and many curious Devices in Wax Work, has deservedly recommended her to public Notice." Another described her as 'Promethean' and another as 'the American Sybil' because of her almost magical ability in seeming to catch the soul of the sitter. She made models of royalty, the nobility, scientists and politicians – and on her own admission would secrete plans and overheard gossip about British plans for America and its preparations for war, and put them inside the wax models before shipping them Stateside to her sister.
In 1780 her daughter Phoebe married the English painter John Hoppner, and in the same year her son Joseph Wright (not to be confused with his namesake who chose to be known by the epithet  'Joseph Wright of Derby') had his first picture exhibited at the Royal Academy. It showed his mother, apparently making a wax effigy of the head of Charles 1st immediately prior to his execution, while casting a meaningful glance at portraits of King George III and his wife Queen Charlotte in the background. That didn't go down too well, and Mrs Wright hurried off to Paris to escape the fuss engendered by the portrait, taking her son in tow. Both made likenesses of Benjamin Franklin and after the war was over Joseph headed back to America to paint the portraits of the new leaders. His mother longed to follow but first of all returned to London in 1782. To her dismay she was no longer in demand, and people dismissed her as mad or bad, or possibly both. She made enquiries to see if her help as an informant, i.e. in passing on British plans, might be rewarded with a gift of a small piece of land back in her homeland. She also wrote to George Washington and gained his approval for the idea of her making a model of him. But alas for poor Patience it was not to be: she had a bad fall after visiting the American Embassy, and died in London on February 25th 1786.
Very few of her wax models survived her, but there is this one of William Pitt the Elder, full-sized, still on display in Westminster Abbey. There is a likeness of Admiral Howe  attributed to her, made in about 1770, and held in the Newark Museum.
We may never know the truth about her espionage activities, but she was certainly well-connected as a result of her link to Benjamin Franklin: who is to say what indiscretions passed the lips of politicians and military men as they sat before her, while she moulded and scraped the warm wax which she kept covered by her apron?
The wall plaque in Patience Wright's home town of Bordentown, New Jersey.