252 years ago today saw the birth day of Dorothea Bland in Waterford Ireland. There was little about the circumstances of her birth to suggest that she was marked out for fame and fortune. Her father was  a stagehand and her mother was an unmarried actress. To make maters worse, Dad went off and married another actress when Dorothea was very young, and finances were distinctly precarious. With such a stage background it is small wonder that she was to become an actress herself. In this she was aided by a formidable quality – she had a fabulous pair of pins. She was the Betty Grable of the Age. Audiences (well, the male ones) adored her and she quickly became famous, specializing in  'breeches roles' where her limbs were displayed to the best advantage (e.g. cross-dressing parts where tight trousers were de riguer and where her charms were not hidden by the voluminous dresses of the day). 'Jordan' was her stage name (she never married) but she was also known as Dorothy Phillips.
 John Hoppner's portrait of Dorothea, 1785, pencil & chalk on paper.      (Courtesy of the British Embassy in Paris)
She was, shall we say, extremely active  romantically. By the age of 20 she had already had a child as a result of an affair with the theatre manager in Cork. A number of other affairs followed, along with three other children. And then she met the Duke of Clarence (later to become William IV)….by whom she had at least ten children (all of whom were given the name FitzClarence). She openly lived with the Duke at Bushy House, attending official engagements as his consort.
A cartoon poking fun at the Royal Family, with Dorothea and her brood in tow, a cartoon by James Gillray.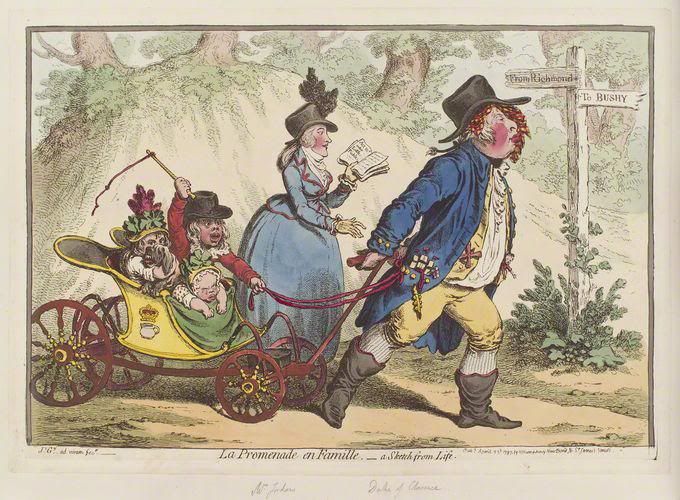 She was his mistress from 1791 until 1811, so baby-rearing might be thought to have been a full time job. Not at all, she continued to work on the stage throughout their relationship.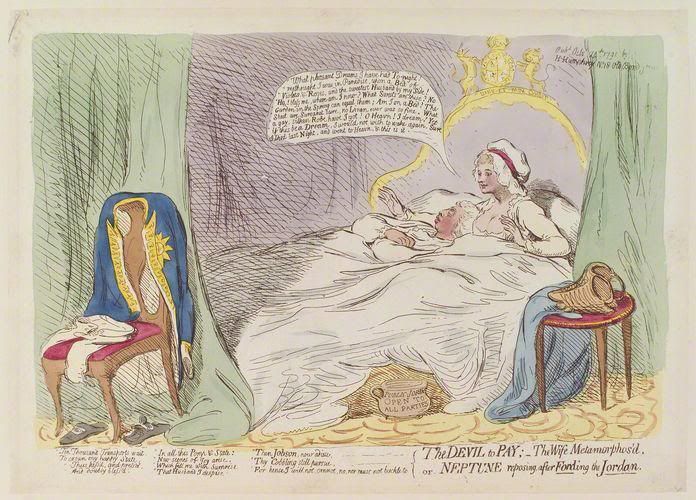 Another Gillray cartoon, entitled 'The Devil to Pay – The Wife Metamorphosed, or Neptune reposing after fording the Jordan.'
The split, when it came,  must have been a huge blow to Dorothea, after twenty years of living together as man and wife. The start of the Regency meant that it was imperative that the Duke found an official bride, since he was now next in line to the throne after the Prince of Wales. He cast his mstress  aside, and when they split the Duke kept custody of the sons and she was allowed to look after the daughters. In return for promising not to go back on the stage the Duke agreed to pay her an annual sum, but family debts forced her to renege on her promise: the Duke cut off the stipend, and removed their daughters from her care. Facing financial ruin she fled to France in 1815 to avoid her creditors and died the year later, near Paris, in abject poverty.
Woops, sorry, wrong  'actress' otherwise known as Jordan….
Her children all did rather well for themselves – the daughters marrying viscounts, earls and admirals, while one of the sons became rear-admiral, and another a Lieutenant-General in the British Army.
Dorothea was one of the actresses featured in the National Portrait Gallery exhibition of First Actresses. This  by John Hoppner
 Dorothea in one of her famous breeches roles in Cibber's 'She Would and She Would Not', where she dresses as a young soldier to follow her lover to Madrid.
So today Dorothea, we remember you and wish you many happy returns of the day. Yours was certainly an eventful (and fecund) life!