1761, June 11: went with Miss Boswell to Vauxhall Gardens
So Richard recalls his tryst with Miss Boswell – and him a married man! I am sure nothing improper occurred, although the gardens were not without their reputation for those who liked their encounters to be 'en plein air'!
Vauxhall Gardens so impressed Canaletto when he visited London in the 1750's that he departed from his usual theme of having either a river or a canal running slap through the middle of every painting and showed  a view of the gardens from the Grand Walk, painted in 1751. It shows the Gardens as they would have appeared to Richard  just a few years later.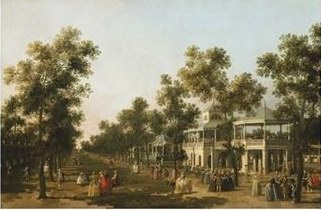 The Grand Walk at Vauxhall
On John Rocque's map of London in 1747 the pleasure gardens were shown by their original name of New Spring Gardens. A helpful history of the site over a period of two centuries (the Gardens opened in 1661 and closed in 1859 ) is to be found at the Vauxhall Gardens website at http://www.vauxhallgardens.com/vauxhall_gardens_briefhistory_page.html
The website gives an account of what an evening's supper consisted of:
"The Vauxhall supper usually took place at around 9 o'clock, as dusk fell. The chief part of the company having seated themselves in the arbours, five hundred separate suppers are served in an instant . . . the price of a bottle of French claret is 5s., of one cold chicken 2s.6d., a quart of cyder 1s., a quart of small beer 4d. a slice of bread 2d. of cheese 4d., and everything else in proportion, which raises an elegant collation to a high rate.
The most famous item on the menu was the legendary Vauxhall ham, cut so thin that you could read a newspaper through it. Besides cold meats, salad, and cheese, the Vauxhall menu also included custards, tarts, cheesecakes and other puddings, mainly to appeal to the younger generation.
During supper, one of the great special effects of Vauxhall was enacted. As night fell a whistle was blown as a signal to a number of servants placed in strategic parts of the garden. Each servant touched a match to pre-installed fuses, and, 'in an instant', over a thousand oil lamps were illuminated, bathing the gardens in a warm light that would have been visible for miles around. In the days before electric light, the effect was sensational, and was a constant attraction at the gardens."
In 1749 a rehearsal of Handel's Music for the Royal Fireworks in celebration of the peace of Aix-la-Chapelle, brought 12,000 people to Vauxhall. Most visitors came by water.
Leopold  Mozart, proud father of the infant maestro Amadeus, accompanied his son to London in 1764, and wrote of the Gardens: 'I thought I was in the Elysian fields, with a thousand glass lamps turning night into day.'
Diners would have dined in one of the fifty-odd supper boxes, each large enough to hold a dozen guests. The boxes were decorated with fine paintings, some of which have survived. The Vauxhall Gardens website continues:
"Vauxhall was also famous for its music. The Vauxhall song, which became a recognisable type in the second half of the 18th century, was the first truly popular music in this country. It was the first music to have a real mass audience (of over a hundred thousand each season) drawn from all sectors of society, and from all parts of Britain and overseas."
So, what we appear to have it as an early version of  'The Proms' with ham (albeit wafer-thin) thrown in!
Rowlandson's take on Vauxhall Gardens dated 1779.The two women in the centre are Georgiana Duchess of Devonshire and her sister. It also features Dr Johnson, James Boswell and Oliver Goldsmith.To the right stands the Prince of Wales.
Boswell had this to say about his visit to the gardens: 'Vauxhall Gardens is  peculiarly adapted to the taste of the English nation; there being a mixture of curious shows, – gay exhibition, musick, vocal and instrumental, not too refined for the general ear; – for all which only a shilling is paid . And, though last, not least, good eating and drinking for those who wish to purchase that regale.'
                 Above, a Perspective View, and below a General View of Vaux Hall Gardens, from around 1775: